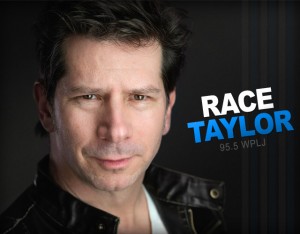 Maybe you've heard him for more than a decade in Afternoon Drive? Filling in for the Morning Show? Getting you thru the workday? No matter when you've heard him on 95.5 PLJ, one thing has been constant…It's always been about the music.
At first it was piano lessons as a little kid, then, drum lessons by 2nd grade. Formal music education at The University of Michigan followed by a few years teaching music in the public schools…you can see where this is going, right…music, music, music!
And then there was the radio….
As the story goes, an internship at an NPR station in Ann Arbor would point Race to his first radio gig. A quick, nomadic radio tour of Ohio leads our hero thru Toledo, then Dayton, Columbus, and Cincinnati. In the late 90's the radio tour would shift south to Dallas, and then the call would come from WPLJ, New York.
Arriving in 1999 things would happen quickly. Grammy broadcasts, Disney celebrations, The Oscars, Bon Jovi shows and American Idol Finales all became part of the yearly calendar. Live concert events and in depth artist interviews also became part of the fabric of a Race Taylor radio show. Pink, Taylor Swift, Rob Thomas, John Mayer, Katy Perry, Colbie Callait, Michael Buble, Gavin DeGraw, Daughtry, and the Goo Goo Dolls are just a few friends who've been by to visit over the years…and the list goes on.
Race Taylor can also be heard beyond the New York City Metro on over 40 stations as part of the Cumulus Media Network. He writes, records and produces a PM Drive show that airs on the HOT A/C Network.
In addition to his work on the air, Race is the current billboard voice for ABC-TV's Prime Time, Daytime and Late Night programming. Hear him regularly on shows like The View, The Chew, GH, Dancing With The Stars, Grey's Anatomy, Castle, Shark Tank, Nashville, CMA Music Fest, and Jimmy Kimmel Live just to name a few. Race has also been the host of several national radio specials with the ABC and Westwood One radio networks.
Race and his wife Patty have 3 boys between the ages of 8 and 15 and currently reside in the great Garden State, New Jersey.