Archives for: August 2011

She'll open the VMA's this year, release a duet with Cher in September, and just finished this video for You & I. Here's the latest from Lady Gaga.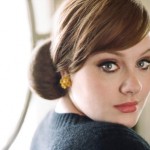 We keep talkin' about Adele. With 21 poppin' to the top spot of the charts 12 non consecutive weeks since it was released, this album just might be in the same league as Supernatural, Jagged Little Pill, Cracked Rear View, or Rumors. Our podcast with Ryan Tedder and One Republic brought to light the fact that "Turning Tables" and "Rumor [...]

Taylor Swift came to see us just before she broke big, and we've loved her ever since. If you've never seen her live, this video might be the next best thing. Check out Taylor's newest single Sparks Fly. P.S. TS, We heart you. sf from Taylor Swift on Vimeo.

She was our pick to win the whole American Idol deal this year. Here's her new video "This Tiime".

They played Lollapalooza, and they are gaining mainstream airplay across the country. Been lovin' this track since we were shovelin' snow last winter. Dare you not to whistle along…

This Chrysler campaign was the best part of the last Super Bowl Sunday. Found this newer, longer version and had to post it. Listen, you can take the boy out of Detroit…